If you're looking for factory line marking, warehouse line marking or OH&S line marking then you've come to the right place. With over 25-years experience, servicing all areas of Queensland – Able Line Marking is your go-to company for all things line marking. To get a free no-obligation quote, simply click on the links below.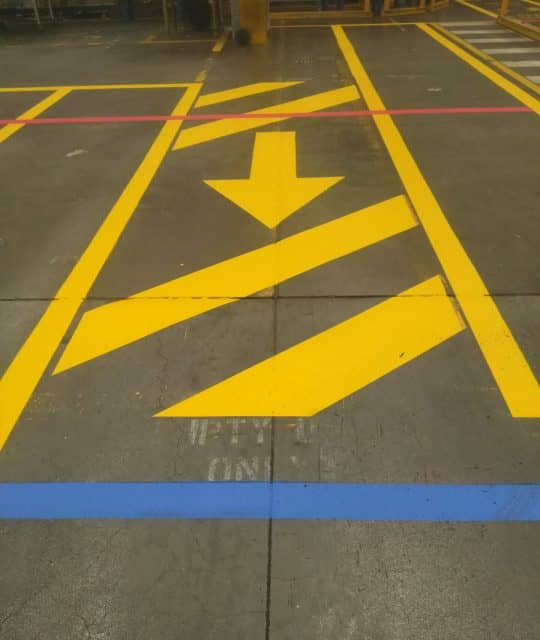 Factory line marking involves using visual pointers to help improve the safety and organisation of a facility. Because factories have many moving parts at work it can be a dangerous space. As a result, a well-marked floor plan is of major importance. These lines will help to guide traffic, mark off work and storage spaces, and point out any dangers and hazards. To operate an efficient factory, a good floor marking plan is necessary.
Whether you have a small job that needs a few touch-ups, or need a complete overhaul – we work 24/7 to get your lines painted quickly, and get you back to work sooner. 
To get a free no-obligation quote, simply click on one of the links below.
Others' Experience With Able Line Marking
These people are amazing to deal with the brother and sister dynamic duo are extremely easy to deal with and very efficient in their area of expertise. I would highly recommend this company .
Able Linemarking did a fantastic job. Damien had a lot of different stencils on board his truck and came up with numerous linemarking solutions to address problems on our driveway. We shopped around on price too - Able Linemarking is the best for price and value. Thank-you!
Damian from Able Linemarking was contacted recently to do some work at our factory, we highly recommend for anyone looking for quality & service.
Thanks to the team at able great job Good price they were prompt got the job done quick very punctual.
Factory & Warehouse Line Marking
Line marking in factories and warehouses is important for safe and efficient operations. But not only that it can help you improve space.We can help you to meet all your occupational health and safety standards and needs. From a small warehouse to large factory and distribution centres, our Line marking services include (but are not limited to): 
Pallet bays 
Storage zones 
Loading and unloading areas 
Cross hatching 
Numbering 
Lettering 
Walkways 
Speed control 
Traffic Priority 
Fork Lift Areas 
First aid stations 
Fire exits 
Fire Extinguisher points 
Fire Assembly Points 
At Able Linemarking we always use quality, hard wearing paints and epoxies.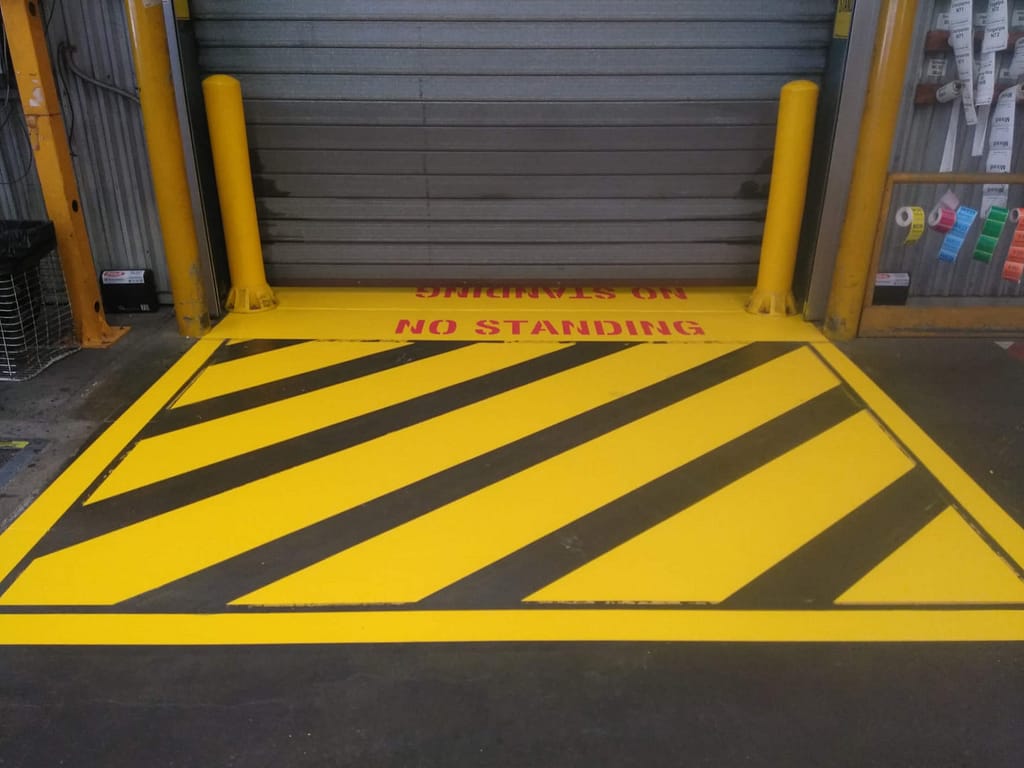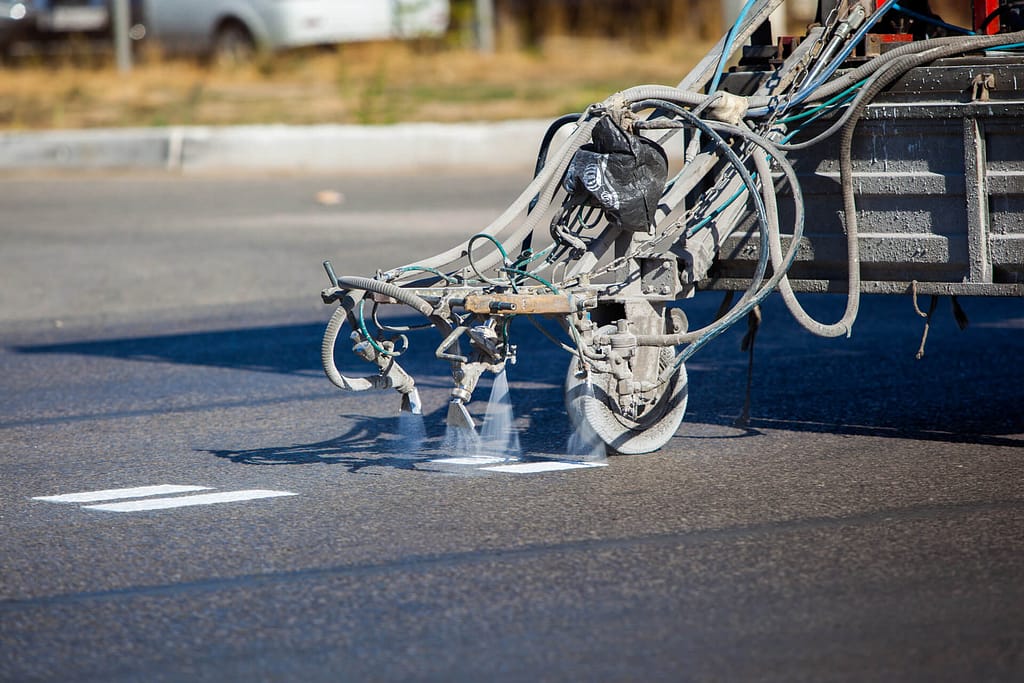 Why Factory Line Marking Is Important
Warehouse line marking helps with navigation around a factory environment. While this may seem simple, a well mapped out floor can make a big difference to the performance and safety of the space. Floor markings improve organisation by providing clear pathways and sectioning off storage spaces. 
They can also lead people to emergency areas such as first aid kits, exits, or eyewash stations which helps with safety. If you have a large factory or warehouse, line marking will help to direct people on where to go. It will also allow you to know where to drop certain items. In turn, this will increase organization, as well as promote a better flow of traffic through the factory.
The Process of Warehouse Line Marking
Before laying down the marking lines, it is important to understand a clear system that your factory will use. Figure out a solid floor plan, and determine how this will increase safety and improve organisation in the factory. Next, you will need to prepare your space properly. This will require cleaning and clearing all of the floors before you can apply paint or tape. 
It would be best to suspend factory operations while doing this. Finally, be sure to brief all employees on the details of the new marking system. In order for the system to work, everyone will need to understand the significance and direction of each line.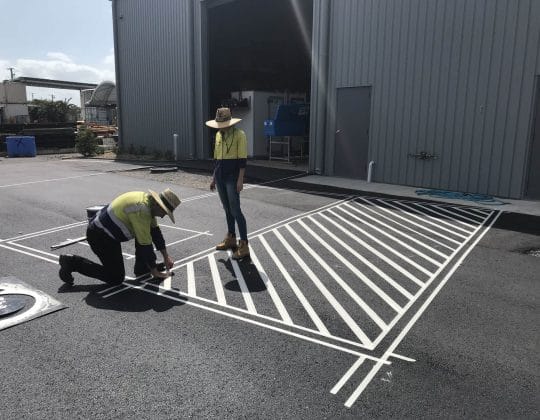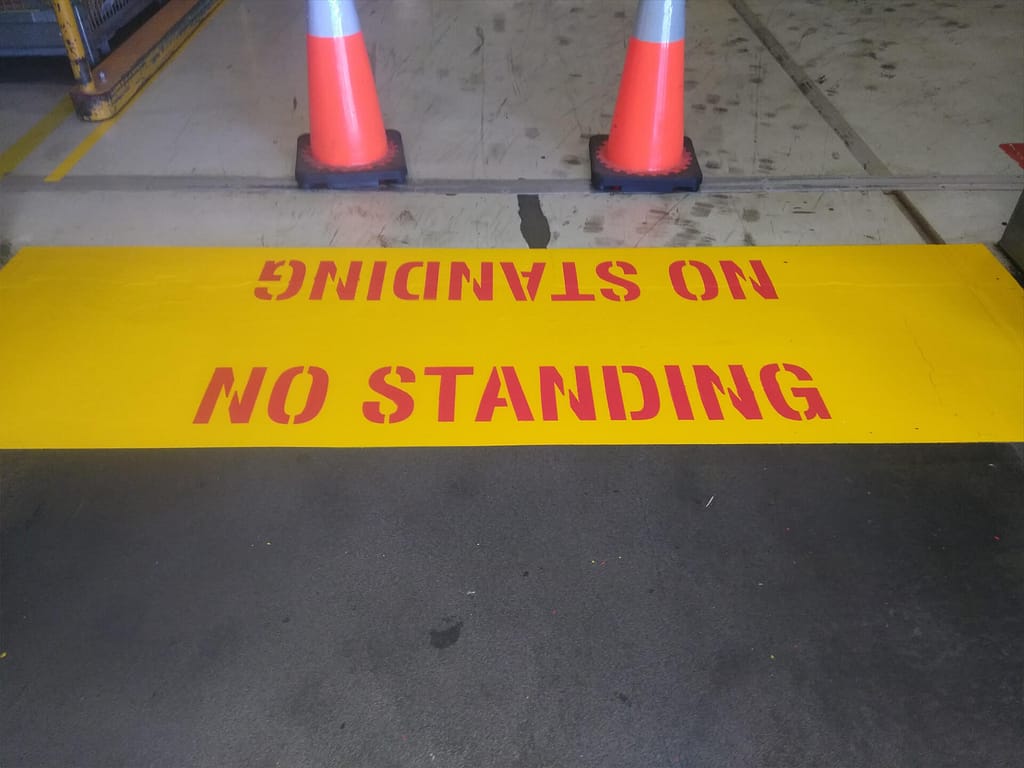 Line Marking Contractors use paint or tape to mark out factory floor lines. Whichever option you choose, it will need to be a specific floor marking variety. Floor marking tape is available in all standard factory line marking colours. It is made from a durable vinyl which can withstand foot and vehicle traffic. 
The tape can also be specially textured, to add an extra level of grip and safety. It is commonly used on unexpected drops and stairs on slippery surfaces to prevent accidents from happening. The floor markings can be in a neutral, reflective, or glow in the dark varieties. Choose an option that will be most visible in your factory environment.
Considerations For Safety Line Marking
Floor marking is often carried out using specific colour codes. This is a standard concept that applies to different industries and factories around the country. Busy warehouses typically see plenty of foot traffic, driving vehicles, and moving parts. This makes it important to have clearly marked lines to assist with the flow. 
Always try to minimise the use of colours to make the safety line marking easier to read. Also, be sure to train all employees on the factory line-markings. Factories can be dangerous, and a proper system of order is essential. Having a clearly marked and easy to understand floor plan can provide an added level of safety and efficiency.
About The Marking Equipment & Colours
High viscosity paints or durable vinyl stickers are often used for this process. Here are some standard colour codes and applications of each. 
Yellow: for all normal traffic aisles and work areas 
White: for anything related to the factory equipment 
Blue/green/black: These colours look pretty similar, so are often used interchangeably. They mark areas around raw materials and finished goods 
Orange: to mark off goods that are being held for inspection 
Red & white: to mark off an area that needs to be clear for safety compliance reasons 
Black & white: to mark off any areas that need to stay clear for general reasons 
Black & yellow: to mark off an area that poses a physical hazard
GET A FREE, NO-OBLIGATION QUOTE
To get your free quote, simply enter your details, tell us a bit about your job requirements, and we'll get back to you within 24 hours.